FREQUENTLY ASKED QUESTIONS
Who are the formulators behind Everyday RECOVERY?
Everyday Recovery is created and manufactured by a multidisciplinary group of medical professionals, pharmacists, and natural product industry leaders with the mission to deliver the safest and most effective hemp product to health conscious consumers around the world. Each ingredient in Everyday Recovery is subject to rigorous quality control guidelines and represents the highest quality substance of its kind.
What are the active ingredients found in Everyday RECOVERY?
Each soft gel capsule is loaded with 12mg of Cannabidiol (CBD), 40mg of Curcumin (from turmeric), 6mg of Beta-Caryophyllene (BCP), and 200 IU of Vitamin D3. This formulation is powered by the VESIsorb® delivery system for optimized bioavailability and absorption. While we process the purest hemp oil extract, there are trace amounts of other phytocannabinoids and terpenes that naturally occur in the plant, although we remove the THC to ensure a safe product that meets all state and federal regulatory standards.
What is Cannabidiol (CBD)?
Cannabidiol, or CBD, is a phytocannabinoid found in industrial hemp plants. It has been studied for a range of health benefits and is capable of affecting nearly every internal system via the Endocannabinoid System (ECS).
What is the legal status of CBD products?
Everyday Recovery is produced with the highest purity Cannabidiol (CBD) extracted from industrial hemp. Products derived from industrial hemp are legal to buy and sell in the United States as long as they meet the federal and state regulatory guidelines, which include having THC levels at 0.3% or less. Everyday Recovery exceeds these requirements with proper third party, independent lab testing for every batch.
Where does the CBD in Everyday RECOVERY come from?
Health In Harmony utilizes sungrown hemp plants from experienced cultivars with more than five generations of farming expertise and GAP (Good Agricultural Practices) certification. Our farming partners have been rigorously reviewed and approved by a multidisciplinary team of product formulators, researchers and medical professionals. Grown in some of the richest soil in the United States, every batch of hemp biomass undergoes the strictest testing protocol to ensure product purity and consumer safety.
Curcumin is a natural polyphenol derived from Turmeric, a spice that has been widely recognized by the scientific community for it's medicinal properties. Curcumin has been used for centuries in traditional medicine due to it's antioxidant, anti-inflammatory, antimutagenic, antimicrobial, and anticancer properties delivering a multitude of powerful health benefits.
Clinical research has demonstrated countless therapeutic benefits associated with Curcumin, specifically related to it's ability to positively benefit many types of inflammatory conditions.
What is Beta-Caryophyllene (BCP)?
Beta-Caryophyllene, or BCP, is one of the most abundant terpenes found in hemp (and other plants such as oregano, black pepper, clove and thyme). Similar to CBD, BCP also acts as an agonist to ECS receptors and is therefore considered a dietary phytocannabinoid and is increasingly being studied for many different potential health-promoting effects.
Vitamin D3 is a form of Vitamin D that is naturally synthesized in the skin following exposure to sunlight. Deficiencies may occur as a result of decreased time spent outdoors, reduced sun exposure in colder climates and heavy use of sunscreen. Vitamin D deficiency has become a worldwide epidemic in all age groups and multiple studies demonstrate the increased need to supplement their diet with Vitamin D3.
VESIsorb® is the leading delivery system innovation for dramatically improving the bioavailability of poorly absorbed ingredients, like cannabinoids. Since 2005, the advancement and superiority of this colloidal droplet delivery system have consistently been demonstrated in well-designed pilot and peer-reviewed published pharmacokinetic absorption and bioavailability studies. 
What is the Endocannabinoid System (ECS)?
In the 1990s, scientists discovered the Endocannabinoid System (ECS), a series of receptors in the human body with regulatory functions that keep our internal systems in harmony (also known as "peak homeostasis"). When the ECS is balanced, the receptors support the body's natural responses to stress, anxiety, memory, appetite, sleep, and pain signaling.
How do we know that Everyday RECOVERY is safe?
Everyday Recovery is rigorously tested, from each individual ingredient to the finished product. Each step of our manufacturing process is tested by an independent, third-party ISO17025 laboratory to ensure the highest levels of safety and purity. With a heightened focus on CBD safety, Everyday Recovery uses a proprietary CBD extract from hemp that has been tested for stability, toxicity, and product performance (pharmacokinetics).
SUPPLEMENT FACTS

QUALITY ASSURANCE
Everyday Recovery is produced under Health in Harmony's strict quality assurance / quality control program to ensure the highest industry standards. Every aspect of the manufacturing process meets or exceeds GMP requirements set forth in section 520 of the Food, Drug and Cosmetic (FD&C) Act. Each product is triple lab tested by an independent, third-party ISO-certified laboratory.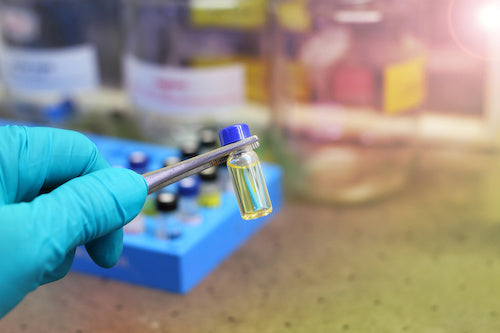 Better recovery and relaxation
I have been taking the Everyday Recovery after hard workout days and it has made a huge difference with the way I feel the next day. With evening workouts, I have struggled in the past with relaxing and feeling ready to rest and the Everyday Recovery helps me feel relaxed. I am able to fall asleep faster and feel better the next morning. This was great post running the Boston Marathon, I was able to get back to intense sessions within a few days of the race and I felt well recovered. This has become a routine part of my recovery, rest, and feeling ready to go!
CBD for Athletes
I took Everyday Recovery the first 3 days after running the Boston Marathon. I definitely was able to feel a difference in how quickly the soreness in my legs resolved after using this product! Muscles were feeling good within 4 days post-race, and I was back to running within a week. Definitely recommend this product for athletes looking to boost their recovery and reduce inflammation after workouts and/or races! Was able to implement it into my daily supplement routine without any issues. 10/10
Everyday Recovery is great! I've been sleeping steadily through the night feeling ready to wake up at 4:30am to work out without any groggy side effects. I've also noticed that my muscles don't stay as sore as long. Love it!!
I can't review the everyday recovery. Because my order got messed up and I received another product instead. I am loving the product that I received :)
Great company.
I took recover for a month right before bed and had noticeably better sleep! This company is small but is doing big things! I would recommend this to people with joint inflammation as well because it will help!